Fast, innovative and feature-rich the HID® FARGO® HDP6600 sets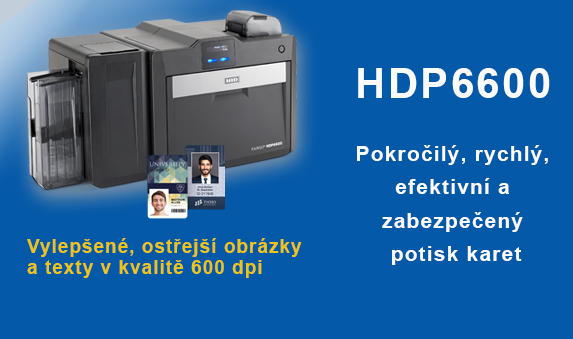 FASTER IS BETTER
First Card Out in Under 60 Seconds With patent pending iON™ "instant on" technology, the unit is ready to produce high-quality cards and IDs in under
60 seconds — virtually eliminating that all-too-familiar long wait for the rst card.
Print Up to 230 Cards Per Hour Simultaneous
print and retransfer enable unprecedented speeds, maximizing productivity.

HIGHEST PROTECTION, LESS WASTE
Optional wasteless lamination provides the largest patch coverage in the industry while eliminating carrier lm and take-up core waste.

VERSATILE CARD APPLICATIONS
Add optional contact and/or contactless card encoding to access a variety of applications:
• Contactless door entry
• Cashless vending
• Time & attendance
• Logical access to computers/networks

NO-COST DURABILITY WITH MULTIPASS
Additional HDP lm layers may be optionally applied with the printer's inclusive multipass function — providing the enhanced protection that high-use IDs and cards demand.