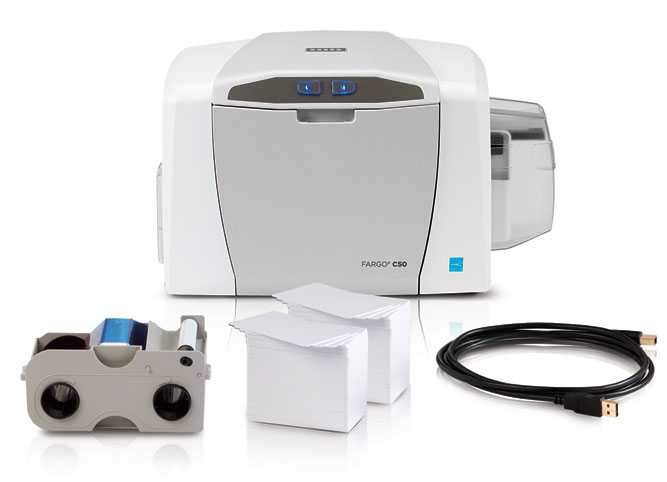 The Fargo C50 is the entry level printer for plastic cards with sublimation technology to the edge of the card.

The low-end single-sided color printer offers full color or monochrome (resin) printing.

With its sleek compact design and easy construction it requires almost no maintenance and can be easily placed in the smallest office configurations.
Benefits: C50
good price
compact
easy operation
also available as a set with consumables for 100 cards
implemented Swift ID software
Another benefits:
fast and quality product support
fast and quality service
possibility of printing with cheap monochrome resin
Affordable, easy to use and compact ideal for office or reception location.
The HID Global - Fargo C50 Plastic Card Printer offers a simple and reliable printing solution for smaller businesses, schools and government institutions requiring personalized card production. It is suitable for printing student, loyalty or membership cards at a price everyone can afford. Easy to install and replace print cartridges with integrated card cleaning before printing.

Plug and print! With the C50 you can print cards in just five minutes whenever and wherever you need them.

The C50 offers Swift ID software for easy card design, personalization and card printing.
The standard is the diagnostic service for automatic monitoring of the technical condition of the printer using the supplied FARGO Workbench.
The C50 has a two-year warranty and can seamlessly integrate with other HID products.

SOVTE is an authorized distributor of HID Global - Fargo printers and has very fast, quality service and technical support!


Video
Club and membership cards

Printer parameters:
- Direct sublimation color printing and thermal resin printing
- Resolution 300dpi
- Wide selection of EZ and ECO print ribbons
- Resin printing speed 514 cards / hour, color 150 cards / hour
- CR-80 cards (85.3 mm length x 53.7 mm width) and CR-79 cards (83.8 mm length x 51.8 mm width)
- Printed card thickness 0.229 to 1.016 mm
- Input tray 50 pcs
- Output tray 30 pcs
- Software design and print Swift ID, FARGO Workbench diagnostic program
- Warranty 3 years