Disc Publisher 4200 - Autoprinter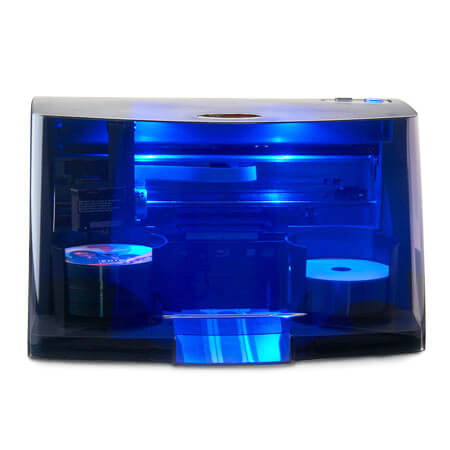 Primera Disc Publisher 4200 Autoprinter is for media printing only and does not burn
The fastest office machines for printing and burning CDs, DVDs and Blu-ray media.

The DP-4200 Series is the world's fastest robotic desktop printer and publisher of CD, DVD and Blu-ray media. In just six seconds, it prints each disc across the board. In fact, it's 20 times faster than competing machines in the same class. Print and release CDs and DVDs as professionals.


Main advantages of the DP 4200 series:

- USB 3.0 - delivers the fastest possible recording speed on CD-R, DVD-R and BD-R media
- Blu-Ray media burning is twice as fast as the previous model
- high-capacity tri-color ink cartridge (order code: 53334)
- 4800dpi print quality
- maintenance-free printing system using an ink cartridge with an integrated printhead (no problems with fixed printheads and keeps print quality consistent over the life of the machine)
- minimum time for cartridge replacement
- compatible with Windows 7/8/10 + and Mac OS X 10.7 (or higher)


Lower cost of printing CDs, DVDs than previous models

The DP-4200 is the second series of Primera robotic printers and CD publishers, DVD media using cartridge technology with integrated print head, making print quality constant throughout the life of the machine.

Professional print quality on CD, DVD media.

The combination of high-resolution inkjet printing technology from Lexmark and Primera TuffCoat WaterShieldTM CD and DVD media delivers professional-looking, water-resistant and scratch-resistant discs. Of course, other media brands with an ink-printable layer may also be used.


Choose from four models of the DP-4200 series, depending on your needs in terms of quantity and type of print and media delivery. Ideal machines for your office. You no longer have to wait for the media to arrive from the agency, now you can print and burn CDs and DVDs as needed.

DP-4052 Disc Publisher - CD, DVD printer, CD burner, 50x media
DP-4200 CD, DVD and Blu-ray printer - 100 disc capacity
DP-4201 Disc Publisher - CD, DVD and Blu-ray printer + 1 burner, 100x media
DP-4202 Disc Publisher - CD, DVD and Blu-ray printer + 2 burners, 100x media


Blu-ray Disc Of course, the DP-4200 Primera Disc Series can also be ordered with the latest generation of Blu-ray Disc Writers. With Blu-ray discs, you will be able to record high-definition videos as well as perform back-up files and photos.

Fast CD printing and easy operation.
Printing and burning CDs on the DP-4200 Series is as easy as working with any office printer. Simple and intuitive Primera PTPublisherTM software for printing and burning CDs, DVDs is included. Easily integrate DP-4200 machines into PACS / DICOM medical imaging systems.